Last night's cooking class in Bundeena at the home of Marion and John was a pleasant grand finale to all things culinary in New South Wales. The menu, mood and attendees were different to the night before, and we ate our feast to the sound of a summer rainstorm.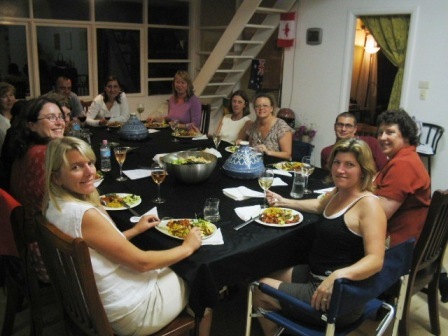 Bundeena is rich in local artisans, specialising in things like painting, textiles, ceramics, jewelry and pottery. Marion (above, in purple) is a potter by trade, and has a kiln and studio at home. All of the bowls and gorgeous tagines in which we prepared and served dinner were made by her. See more of her handiwork…
John (above, right, with glasses) runs a Bundeena local news and information service website. See more of Bundeena…
A special thanks to Michelle and Gary for accomodating me in their home.
And that's it for Sydney. I fly to Melbourne this morning, will have lunch at Gopal's restaurant in Swanston Street, and will prepare myself for teaching yet another class in a private home in Fitzroy this Sunday.
The show must go! Onwards and upwards…